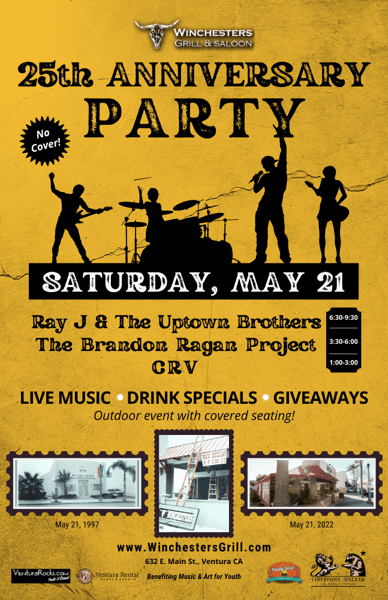 25th ANNIVERSARY PARTY!!!
May 21st marks exactly 25-years since we served our first customer a cold pint and a tasty burger, so we're pulling out all the stops to celebrate - and you are definitely invited!!!

3 Live Bands! Drink Specials!! Giveaways!!!

Live Music starts at 1:00pm and goes all day!

Outdoor event with covered seating and outdoor bar! 

We hope you'll saddle up and celebrate with us! Event proceeds will benefit Music & Art for Youth, a local non-profit helping kids and teens reach their artistic goals!

LIVE MUSIC LINE UP
1:00-3:00: CRV (country rock favorites!)
3:30-6:00: The Brandon Ragan Project (old school fun, R&B and Motown!)
6:30-9:30: Ray J. & The Uptown Brothers (rock n' roll bluesy fun!)

Thank you for 25 years!!

See Event Poster